Disc Pain Treatment at Your Tacoma Chiropractor
With many years of combined experience and a dedication to providing the highest quality patient care, we are proud to be your trusted chiropractor in Tacoma. At Bakke Chiropractic Clinic, we have the skills and knowledge necessary to treat a wide range of musculoskeletal conditions without the use of prescription pain medications or more invasive treatment methods. Whether you are suffering from degenerative disc disease, lower back pain, bulging disc or a slipped disc, our Tacoma chiropractor can help you get the pain relief you need to start living a healthy and active life once again.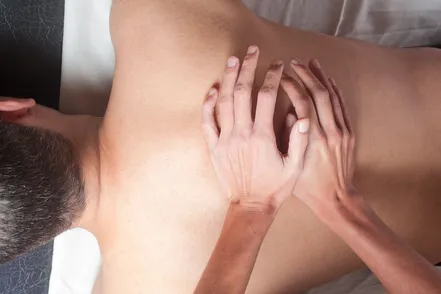 Symptoms of Spinal Disc Damage
What are Spinal Discs?
Your spinal discs are flat, round discs that are attached to the vertebrae above and below them in the spine. They are fairly pliant and designed to absorb shock. However, the neck and lower back are both very susceptible to injury and changes due to aging. In turn, this makes the spinal discs vulnerable to injury as well. If a disc located in the lower spine breaks down, it can lead to lower back pain, numbness, weakness and leg pain. Injured discs in the neck area can lead to pain in the neck, shoulder arm and down into the hand.
Common Disc Pain Conditions
Degenerative Disc Disease - This common musculoskeletal condition is classified by a pain or injury that originates within the spinal discs. It can occur due to the body's natural aging process as the discs begin to dry out, causing them to lose their flexibility and reduce shock absorption.
Herniated Discs - This disc pain condition is often accompanied by root pain and/or pain that travels along the nerves as they exit the spine. Typically, herniated or bulging discs occur when the soft inner part of the disc leaks out and touches the root of the spinal nerves. Because the material inside of each spinal disc is highly inflammatory, anytime it comes into contact with the nerve it can result in a great deal of pain.
Some general symptoms associated with disc problems include:
Back pain
Pain that radiates down into the legs
Pain that worsens when bending or sitting for extended periods
Pain that worsens when sneezing or coughing
Numbness or stiffness in the arms or legs
Chiropractic Care for Spinal Disc Pain
With targeted spinal manipulation, our experienced chiropractor in Tacoma can work to relieve your disc pain symptoms without the use of more invasive treatment options or prescription drugs. By focusing on the root cause of your pain, we can easily recommend a treatment plan that works with your health and lifestyle needs. We may recommend a combination of holistic healing treatments including chiropractic adjustments, spinal decompression therapy, massage therapy, corrective exercises and more.
Want more information on the benefits of chiropractic care adjustments for a slipped disc, a bulging disc and lower back pain problems? Call (253) 472-3365 or visit us today to schedule your initial consultation.