Lower Back Pain Treatment with our Tacoma Chiropractor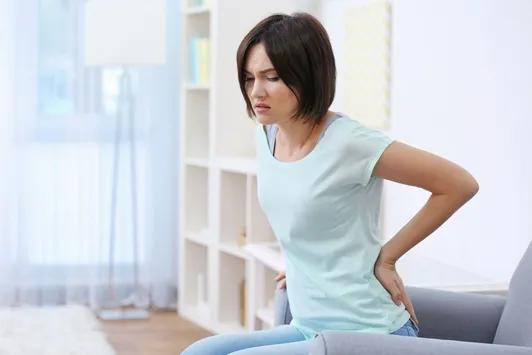 When people complain of back pain, you'll frequently see them clutching their lower back. This region of the spine has quite a load to bear, and acute injuries or chronic ailments can make that burden impossibly painful. Fortunately, you can put your nightmares about back surgery to rest, because our chiropractor in Tacoma, Dr. Danan Bakke, can relieve your lower back the natural way.
How Lower Back Pain Lowers Your Quality of Life
Up to 70 percent of Americans must deal with lower back pain at some point. This all-too-common symptom makes more sense when you understand that these large vertebrae, vertebral discs, and muscle groups in the lower curve of your back must support your entire upper body weight -- while also moving, twisting, and bending as needed. It doesn't take much to throw this complex assembly painfully out of balance.
Acute injuries are a major cause of lower back pain. You can twist your back due to poor workplace ergonomics, experience muscle strain and herniated discs from improper lifting methods, or sustain a high-impact auto accident or sports injury that knocks your vertebrae and discs out of position. Herniated discs also pinch major nerve roots, causing not only lower back pain but also leg pain and other neurological issues.
Other forms of lower back pain stem from chronic musculoskeletal problems. You may a long-untreated lumbar or sacral misalignment that puts your back muscles under unusual stress. Bulging discs that have flattened out can reduce the space between vertebrae, inflaming the vertebral joints. Even weight gain from obesity or pregnancy can hurt the lower back.
Safe, Non-Surgical Back Relief from Our Tacoma Chiropractor
Contrary to what you may fear, back surgery is the last resort for most cases of lower back pain. Our Tacoma chiropractor can treat this symptom through safe, non-surgical methods.
Chiropractic adjustments can normalize your spinal alignment to take the stress off your muscles and restore your pain-free range of motion. Spinal decompression therapy can ease the disc-related pain. This non-surgical technique applies painless flexion distraction force to increase the space between vertebrae, which in turn draws bulging or herniated discs back into their correct position. Strained or injured muscles respond well to massage therapy, electrostimulation, cold laser therapy, and other therapeutic measures that facilitate healing and relieve pain without the use of drugs.
Do Your Lower Back a Big Favor -- Call Bakke Chiropractic Clinic
Don't let lower back pain keep you feeling low. Do your lower back a big favor by calling Bakke Chiropractic Clinic at (253) 472-3365.
We can help you get your quality of life back!