Plantar Fasciitis Treatment at Bakke Chiropractic Clinic in Tacoma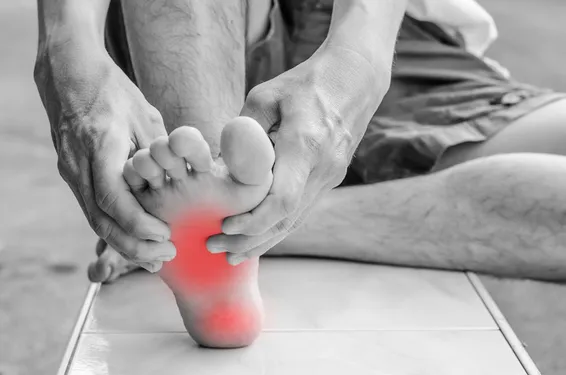 For many people, greeting a new day is one of the great joys of life -- but when you're experiencing pain from the moment your feet first hit the floor, mornings may be a thing to dread. The chronic foot inflammation known as plantar fasciitis can make standing and walking painful, but you don't have to put up with this misery day after day. Bakker Chiropractic Clinic can use chiropractic care, orthotics, and other plantar fasciitis treatment techniques to bring you relief.
Inflammation of the Plantar Fascia
The plantar fascia is a tough, strong section of connective tissues that extends from the ball of the foot to the heel. This tissue has the critical job of supporting the arch of the foot, that remarkable architecture that helps balance your entire body weight every time you stand or move on your feet. But just like any other connective tissue, the plantar fascia is vulnerable to overuse injuries and strain. When it sustains repeated micro-tears with no opportunity to heal itself, you experience the pain of plantar fasciitis. This pain may be at its worst when you first stand up after several hours off your feet, easing slightly as you move about but never actually going away.
Why do people develop plantar fasciitis? One leading cause is footwear that throws your body off-balance (as in high heels) or fails to offer proper arch support. Jobs or other activities that keep you on your feet for many long hours can cause plantar fasciitis. Sometimes the problem lies within your own musculoskeletal system. A misaligned body and/or abnormal arch development can subject the feet to unnatural stresses and strains.
Chiropractic Care, Orthotics, and Other Natural Treatments
Our Tacoma chiropractor can examine your symptoms, medical history, lifestyle, arches, stance, gait, and spinal alignment to find the cause of your plantar fasciitis. In many cases, chiropractic adjustments that normalize spinal alignment can also equalize your weight distribution, easing foot strain. Our Tacoma chiropractor may also recommend custom-fitted orthotics (footwear inserts) to lend extra support to abnormal arches. Other treatment options may include massage therapy and other forms of soft tissue therapy to enhance blood flow to the feet, which can relieve pain and inflammation while encouraging the healing of micro-tears.
Ask Our Chiropractor in Tacoma About Plantar Fasciitis Relief
Bakke Chiropractic Clinic can help you stop dreading those first steps out of bed and get you back to the pain-free life you want and deserve. Call (253) 472-3365 to schedule a consultation and evaluation so our chiropractor in Tacoma can put you on the path to plantar fasciitis relief!