Neck Pain Relief in Tacoma with Chiropractic Care
Have you been involved in a car, work or sports accident, or do you simply seem to suffer from chronic or sudden neck pain that just won't go away? If so, neck pain relief in Tacoma is just a phone call away. Here at Bakke Chiropractic Clinic, we understand how uncomfortable and painful a stiff or injured neck can be. That's why our Tacoma chiropractor team consisting of Dr. Danan Bakke and Dr. Jongmin Lee are here to help you heal with holistic, non-invasive chiropractic care.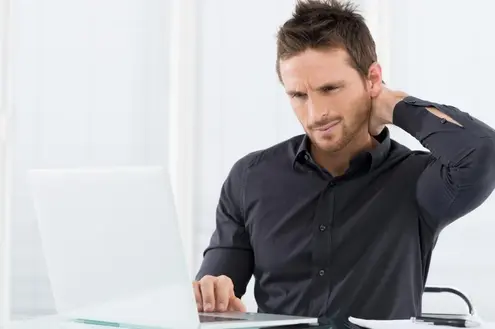 Types of Neck Pain Treated by Our Chiropractor in Tacoma
Whether you're seeking auto accident injury treatment for whiplash in Tacoma or any other condition that causes neck pain, our chiropractor in Tacoma has your back and your neck covered. The most common complaints of patients seeking pain relief include uncomfortable feelings in the neck such as pinching, tingling, numbing or just outright pain that limits your range of motion, making the simplest daily task and even driving seemingly impossible.
Common Causes of Neck Pain
When a work, sporting or auto accident is involved, many patients come in seeking whiplash treatment, or are suffering from pulled and strained muscles, herniated discs, and other related conditions that can source neck pain. One of the most common non-accident related sources of neck and shoulder pain we see are due to tension, as that is where many people 'hold stress.' Much of this stress is due to a newer physical phenomenon we call 'text neck.' Of course, long periods of looking down at any type of screen for work or pleasure can result in neck pain due to postural issues. Whether you've simply slept wrong and woke up in pain or have chronic or acute neck pain, our Tacoma chiropractor has a mission to discover the source and help alleviate your condition for long-term relief.
Neck Pain Treatments Offered by our Tacoma Chiropractor

Dr. Bakke has been a Tacoma chiropractor for a number of years. Having followed in his family's footsteps by operating the family owned Bakke Chiropractic Clinic, he's experienced in both traditional and the most modern chiropractic techniques. Some of the non-invasive, holistic healing methods he and his team use at the clinic for neck pain include:
Chiropractic adjustments to manipulate the spine.
Cold laser therapy for deep healing and pain relief.
Spinal decompression for cervical and spinal realignment
Massage therapy to soothe aching, tight muscles.
Electrostimulation/impulse adjusters for faster healing.
Active release techniques and physical therapy.
HydroMassage water-free techniques.
Whether you need neck pain relief or specialized auto accident injury treatment in Tacoma for whiplash, we've got your back and neck 'covered' at Bakke!
Looking for Neck Pain Relief in Tacoma?
Bakke Chiropractic Clinic has been treating back and neck injuries since 1958, and they're ready to help you live a pain-free life with non-surgical treatments without prescription medications. Give us a call at our Tacoma office at (253) 472-3365 today to schedule a consultation.