Sports Injury Treatment with our Tacoma Chiropractor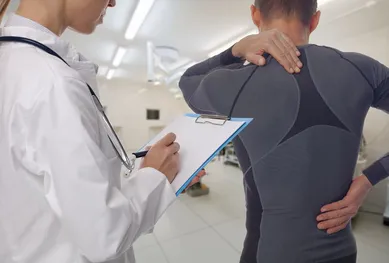 If you have been in search of sports injury treatment in Tacoma, you have come to the right place! From knee pain to back discomfort to issues with your joints, it's hard to participate in sports without getting some kind of an injury now and then. Whether you are a full-time athlete or are a sports enthusiast who only manages to get moving on the weekends, you are subject to the aches and pains that come from leading an athletic lifestyle. Read on for information about our approach to treating sports injuries.
Common Sports Injuries Seen by Our Chiropractor in Tacoma
Our chiropractor in Tacoma has years of experience treating athletes and sports enthusiasts. We routinely see the following common sports injuries in our facility:
Hockey injuries
Sports hernias
Aching back
Stiff neck
Pain in the knees
Tennis elbow
Rotator cuff injuries from swinging a baseball bat
This list is not comprehensive. If you are experiencing a sports injury that is not specified here, we encourage you to contact our office to learn what chiropractic treatment options we can make available.
Sports Injuries can happen to Amateurs and Professionals Alike
The knee pain that you feel after playing in a casual game in your neighborhood can be just as sharp as what a professional athlete will experience.
In fact, you may feel the pain more severely if you are less accustomed to sports injuries as compared to a player who is scoring goals each week on TV. Don't let your status as an amateur deter you from getting professional help from your preferred chiropractor in Tacoma.
Benefits of Chiropractic Care for Athletes -- Beyond Injury Care
Patients are advised to come in for chiropractic care even when they do not have any injuries that need rehabilitation. Chiropractic care is recommended by coaches and trainers before performance and after. A chiropractor can help loosen you up, helping to avoid strains and painful movement.
Chiropractic care also is useful for building up strength, which is why so many martial arts enthusiasts arrange for regular trips to their preferred chiropractor.
Schedule an Appointment with our Tacoma Chiropractor
You want to get back onto the playing field as soon as possible after an injury, which is why you will want to come in for sports injury rehabilitation at our facility without delay.
If you would like to learn more about how your Tacoma chiropractor can help with your injuries or if you are ready to book an appointment, call Bakke Chiropractic Clinic today at (253) 472-3365. If this is going to be the first time you come to our clinic, remember to ask about our free consultation for new patients.