Spinal Decompression from Our Tacoma Chiropractor
At Bakke Chiropractic Clinic, our experienced Tacoma chiropractor team offers a wide range of services to help you find relief from pain and improve your overall health and wellness. We strongly believe in the use of non-invasive and drug-free chiropractic care, and spinal decompression therapy is one of the most common treatments we provide here in our office.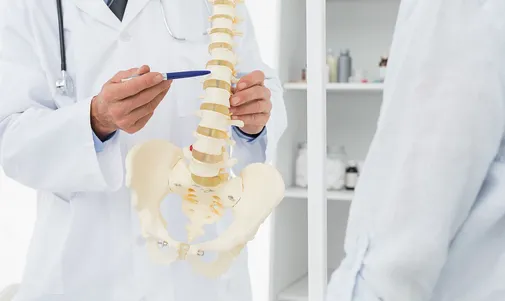 Understanding Spinal Decompression
Bakke Chiropractic Clinic is proud to offer DRX-9000 as a state-of-the-art method for spinal decompression therapy. Specifically, spinal decompression is a non-surgical procedure that utilizes a high-tech machine that is designed to gently and carefully create negative pressure between the vertebrae along the spinal column. The purpose of this is to relieve excessive pressure on nerves often caused by bulging and herniated discs, as well as other spinal conditions. By relieving this pressure between the vertebrae, spinal joint and disc positions can be normalized and patients can enjoy relief from many symptoms.
Thanks to spinal decompression therapy, patients can find the pain relief they need without the need for invasive procedures (such as surgeries) or risky prescription medications.
How Spinal Decompression Can Help You
There are many conditions and symptoms that spinal decompression can effectively treat. Herniated and bulging discs are a couple of the most common conditions treated by spinal decompression. This condition occurs when the fluid-filled discs found between the vertebrae are forced out of position due to excessive compression of the spine. This can result in severe lower back pain and pain along the spinal column. Fortunately, with spinal decompression, the vertebrae can be decompressed, allowing herniated and bulging discs to return to their proper positions.
Spinal decompression can also be effective in treating sciatica by relieving excessive pressure on the sciatic nerve, which is a large run that runs along the lower back and into one or both legs.
What to Expect From Spinal Decompression in Tacoma
Interested in spinal decompression in Tacoma? You may be wondering what to expect from this chiropractic treatment. At Bakke Chiropractic, we will begin with a consultation so we can determine whether or not spinal decompression is the best treatment for you. If so, then your therapy will begin with a skilled chiropractor and team placing you on a traction table. Once you are properly secured to the table, we will begin operating the machine to gently and carefully decompress the vertebrae. You will not feel any pain during this process, and the entire procedure does not take very long. By the end of the session, many patients report that they enjoy back pain relief in Tacoma. We may recommend additional follow-up appointments and treatments to ensure your pain doesn't return.
Request an Appointment with Our Chiropractor in Tacoma
If you're experiencing persistent back or neck pain, we encourage you to contact our chiropractor in Tacoma and schedule your consultation with Bakke Chiropractic Clinic today. You can reach us to schedule your appointment by calling our office at (253) 472-3365.