How a Sports Injury Chiropractor in Tacoma Helps You Get Back in the Game
Dr. Danan Bakke and Dr. Jongmin Lee understand how important it is for you to resume playing the sports you love. However, they also recognize how essential both down time and proper care is when recovering from a sports injury. Whether your complications have resulted in a serious sprain, back pain, knee pain or any other athletic related injury, our chiropractor in Tacoma is here to help.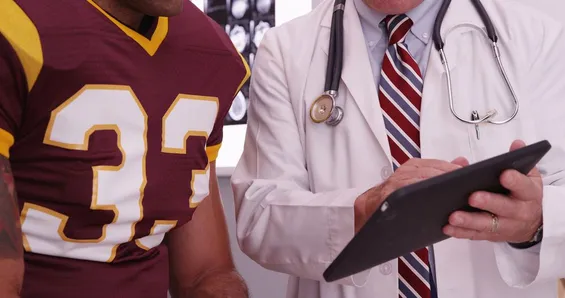 Common Sports Injuries Treated By Our Tacoma Chiropractor
Our Tacoma chiropractor sees quite a few injuries occur amid youth, amateur and professional athletes. Even if your sport of choice isn't a rough contact sport, injuries can arise at any time at any level of play. Whether you play baseball, football, golf, tennis, soccer or participate in gymnastics or track and field competitions, most athletes can benefit from chiropractic care—even without a current injury.
Some common sports injuries we treat at Bakke Chiropractic Clinic include:
Back Pain, Neck Pain, Knee Pain, Shoulder Pain
Muscle Strains and Hamstring/Ankle Sprains
Shin Splints
Torn ACL and MCL Injuries
Concussions
Patella Femoral Syndrome
Tendonitis
Tennis/Golfers Elbow
Plantar Fasciitis and Shin Splints
Services and Techniques with Our Sports Injury Chiropractor in Tacoma
Our chiropractor in Tacoma at Bakke Chiropractic Clinic can help you get off the sidelines faster and stronger with gentle, natural techniques and treatments. Dr. Bakke and Dr. Lee offer a range of services and chiropractic techniques designed to help you recover without the need for unnecessary surgery or pain medication. Some of our sports injury care services include:
Chiropractic Adjustments and Physiotherapy: We use a variety of manual adjustment methods to help realign the spine to relieve pressure off nerves and promote natural healing. Our Tacoma chiropractors also use an instrument based technique called Active Release, the Thompson Method, the Gonstead technique, Palmer techique, and the Cox Table Method. Some physiotherapy tools we use include Erchonia laser, cold and moist heat and impulse adjusters.
Physical Rehabilitation Therapy: Sports injuries can cause loss of muscle and joint mobility, which results in symptoms such as balance issues and strength loss. Our rehabilitation program can help restore these functions and help your body grow stronger as it heals.
Massage Therapy Services: Massage helps improve circulation, reduces swelling and relaxes muscles making them more receptive to chiropractic care and rehab sessions. We also offer HydroMassage, which is a special bed that uses water to massage you while you stay perfectly dry.
The Benefits of Chiropractic Care Beyond Injury Relief
Athletes don't necessarily need to wait for an injury to benefit from chiropractic care. In fact, regular adjustments keep the spine aligned which can help prevent sports injuries. Proper body maintenance is vital to staying at the top of your game, and chiropractic care helps improve mobility, relieve tight muscles and make you a stronger athlete. So, don't wait until injury strikes—get preventive chiropractic treatments regularly.
Contact Bakke Chiropractic Clinic in Tacoma, WA at (253) 472-3365 to schedule a consultation with our dedicated and experienced chiropractors today.