Services from Your Tacoma Chiropractor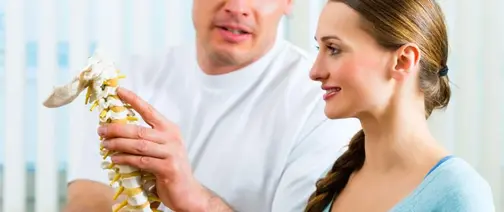 When you're in need of chiropractic services, turn to professionals who care about your health and progress, and who are willing to support your path to wellness. Your Tacoma chiropractor at Bakke Chiropractic, Dr. Bakke, Dr. Kenneth or Dr. Lee, provides each one of their patients with a full spectrum of natural, non-invasive health, wellness and pain relief services. Our services and techniques include:
Family Chiropractic Care
We provide chiropractic care in Tacoma for every member of your family, at all stages of life. Our Tacoma chiropractor can adjust joints that have lost their normal alignment, restoring mobility and relieving pain. A family chiropractor is trained in dealing with the more delicate and growing musculoskeletal systems of children and teenagers. Our team can assist you and your child, and can even help the whole family with genetic disorders causing spine pain and other issues.
Spinal Decompression
Spinal decompression therapy relieves the effects of pinched nerves caused by bulging/herniated discs and other spinal conditions. It creates negative pressure between vertebrae, normalizing disc, and spinal joint positions. We offer DRX- 9000 as a method of spinal decompression. DRX-9000 technology is the best option for spinal decompression in Tacoma. It is successful in relieving pressure on the anatomical structures that cause lower back and neck pain. This non-surgical procedure was developed for the treatment of pain and disabling lower back and neck conditions caused by disc herniation, degenerative disc disease, sciatica, and posterior facet syndrome. With the age of technology, and the lower success rate of surgery, patients have become more educated to alternative treatments for back and neck pain relief. The DRX-9000 is available for our Washington spinal decompression patients, to help with these back and neck conditions where surgery was once the only option.
Active Release Technique
Active Release Technique is an instrument-based method for stopping the pain and stiffness caused by internal scarring. Our Tacoma chiropractor uses a variety of manual treatment protocols to locate and break up the scar tissue.
Cox Technique, Cox7 table
Distraction flexion-extension used to help with spinal disc problems and sacroiliac problems by improving, moving, and taking pressure off of the disc.
Rehabilitation Therapy
Any significant injury may result in loss of strength, flexibility, balance or other functional necessities. We can combine multiple healing techniques into a rehabilitation therapy program designed just for you. No matter what you're recovering from, our chiropractic services can help you heal. We will do our best to help you live and move independently again so you can return to your daily routine without assistance or supervision.
Massage Therapy
Our chiropractor often prescribes massage therapy as a supplement to chiropractic care in Tacoma. Various soft tissue manipulation techniques can soothe pain, banish stress, reduce swelling and facilitate tissue healing. We offer moist heat therapy as well.
HydroMassage
Our HydroMassage hydrotherapy bed uses soothing, warm jets of water to relax muscles and relieve discomfort -- while you stay dry. The water jets are contained by the bed's rubber barrier, conveying all the benefits with none of the mess.
Cryotherapy
Acute pain, soft tissue injuries, and swelling respond nicely to cryotherapy. We can apply cold to the affected area to constrict the blood vessels, reduce muscle spasms and numb the area without drugs.
Cold Laser Therapy
Cold laser therapy uses a low-level laser beam that passes through the skin and stimulates cellular repair in the underlying tissues. This technique also enhances circulation and relieves pain.
Neck and Lower Back Pain Treatment
Every part of the spinal column can be affected by acute injuries, spinal alignment problems, and chronic degenerative conditions, from the neck to the lower back. We can prescribe personalized treatment problems to treat everything from whiplash to sciatica pain.
Sports Injury Treatment
Sports injuries may involve acute damage from high-impact injuries or chronic overuse injuries such as tennis elbow and plantar fasciitis. Our chiropractor in Tacoma can diagnose the extent and cause of your sports injury, prescribing a holistic rehabilitation plan to help you return to action.
Nutrition Response Testing
Nutrition response testing (NRT) helps us discover nutritional supplements that can do you the most good. After we test various physical reflexes for signs of underlying health problems, we can prescribe specific combinations of nutrients to address those problems.
Alzner Foot Orthotics
Alzner foot orthotics are available! Drs. Kenneth and Danan Bakke use spinal weight-bearing muscle tests to determine how well your feet are holding your balance. If they are not doing well, the Alzner foot orthotics help correct this weakness and improve not only your balance, but the muscle strength of your upper back and lower back. They can also lessen shin splints that occur when the anterior tibialis muscle is weak.
Bakke Chiropractic Care can serve as your all-in-one source for natural healing and pain relief. We have half a century of experience helping people like you find relief from spinal pain, muscle tightness, limited mobility, and a variety of other health concerns, without invasive and painful surgery. If you are interested in some of the above services for yourself or a loved one, or if you want to learn more about how a chiropractor can help you find natural healing from your health limitations, call us at (253) 472-3365 to schedule a consultation with our chiropractor in Tacoma!